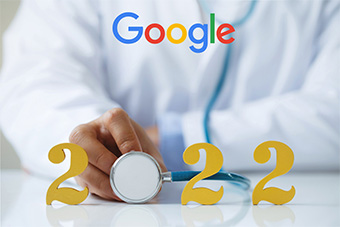 2022 will bring big changes to online searches for healthcare consumers. Your website is the first point of contact with patients and is a critical marketing element to attract new patients online. The 2022 Google updates will rank websites differently with a change in user experience that will impact your search engine ranking.
Adapting these 3 core metrics are a must-have for optimizing your practice website in 2022:
Largest Contentful Paint (Page Loading Speed): This metric measures the time taken for the loading of the visual part of the website pages. Your website ranking will be negatively affected by slow page loading. Ideally, page loading time should be less than 2 seconds. The average page loading speed for most healthcare websites is 5.4 seconds. Some of the options to improve page loading speed include optimizing HTML, CSS, and JavaScript; reducing website redirects, optimizing images, and enabling compression.
First Input Delay (Time to Full Interactivity): This measures the time taken by a webpage to become fully responsive; for example enabling a user to log onto a patient portal or submit some information on the website. If you click on a button on the webpage and it takes a long time to respond, this leads to a poor user experience. A first input delay of less than 50 milliseconds is considered good.
Cumulative Layout Shift (Page Stability): This measures the amount of overall shift in the page layout as it loads. For example, a user may be reading some content on the webpage and the layout of the page shifts requiring the user to search for the specific content once again, or links and buttons on a page may move unexpectedly while the page loads, causing the user to click on the wrong link. Factors that affect page stability include images or videos of unknown dimensions, complications with fonts, third party ads that resize themselves. A cumulative layout shift score of 0.1 is considered good.
Your Practice Online offers a variety of digital marketing solutions to help your website rank high in search engines. We build practice websites that are compliant with the latest Google guidelines.
We can help doctors grow their practices, so they can treat more patients. Contact us at info@yourpracticeonline.net or by calling (877) 388-8569 to learn more.
Sources:
1. https://www.seroundtable.com/google-page-experience-update-desktop-in-february-2022-32370.html
2. https://www.medicalwebexperts.com/blog/what-googles-2021-algorithm-update-means-for-medical-websites-the-7-metrics-you-need-to-know/
3. https://huckabuy.com/google-algorithm-update-2021-page-experience-explained/