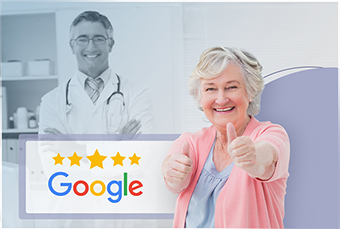 What is the Importance of Google Reviews for Your Practice?
Google reviews are public comments and ratings shared by customers about businesses, including physicians and hospitals. Just like Google users consider a restaurant's reviews and star ratings before deciding which restaurant to go for a lunch or dinner, they consider a physician's reviews when deciding where to go for medical care. Google reviews for physicians help patients choose the right healthcare provider. As per a report from Doctor.com, "Most patients regard 4 stars to be the lowest acceptable rating for a physician." Before the patient knows anything about you or your practice, the star rating already gives a sense of your online reputation. This same report details that about 87 percent of patients will go online to read reviews about a physician they have been referred to or thinking of going for their health needs. Hence, having a good reputation and strong online presence is certainly essential to gain new patients and avert referral leakage.
Negative Reviews Are an Opportunity
When you have been working hard to offer great care for your patients, reading a negative review online can be discouraging. Nevertheless, negative reviews apprise your practice to problems that remain in your blind spots. What would you preferably have: a frank review that informs you what may be causing patient attrition or a steep fall in returning patients with no explanation? If a patient was shy to inform your staff or you about a troublesome issue noted during their visit, they may be motivated to post about it on a Google review. Consequently, negative reviews provide opportunities to improve on patient experience by continuously striving to provide the very best possible care.
Google reviews for physicians are also a PR opportunity. Replying to your practice reviews, both positive and negative is an excellent way to build trust and goodwill and shows patients you care about what is being said. When you reply empathetically and request to settle an issue in a private channel, those who are reading a negative review will immediately see your caring and thoughtful response. This apprises prospective patients that you and your practice are seriously involved in offering a high quality care and you do care about them having an excellent experience.
Positive Patient Reviews of Physicians Make Up for the Negative
Your star rating is an average of how all of your patients/reviewers assessed your practice. Hence, when you accomplish a lot of 4 or 5 star reviews, these will elevate your overall rating. Actively pursuing more patient reviews enables you to attain a stellar rating. When a medical practice is brand new, it may not have any online patient reviews for its physicians yet. Although no reviews mean there are no negative comments to impact prospective patients viewpoint, there are also no positive comments, meaning your practice can be upstaged by a competitor with a 4 or 5 star rating registered right above yours.
Summary
Google consumer reviews are now the second highest ranking factor for top local search rank. Hence, all factors being equal among medical practices, those with consistently high star ratings are in the best position to edge out a competitor. If you have had a glance at your medical practice's Google reviews and think you can do better, Google reviews are here to give you and your practice a great boost and opportunity to excel further in your practice.
Sources:
https://www.ihealthspot.com/blog/google-reviews-for-doctors-how-patient-feedback-makes-a-difference/