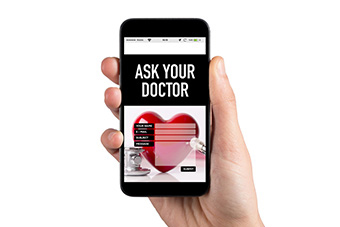 Did you know that 70% of mobile searchers call a business directly from Google Search? Is online advertising part of your healthcare marketing strategy? If not, you might be wasting valuable marketing dollars on expensive and ineffective marketing advertising.
A staggering 86% of consumers search for local businesses online, and Google dominates with 70% of this search market share. Check out these 3 great reasons to advertise on Google:
1. Target Only the Patients You Want. Google AdWords lets you choose when, where and how to show your ads to potential patients, based on based on age, location, days of the week, specific key words they use when searching for a medical condition or service. Google allows you to pick very specific communities and offers relevancy factors for key words for searches to ensure your specialty and brand is found on top of page.
2.Flexibility. Limited Budget? No problem. There is no minimum amount to spend and long term contract. With Google AdWords, you only pay when a person clicks on your ad. You can control exactly how much money is spent per day, per month, per ad. You can pause ads or rotate new services easily with the click of a button. The average cost per click for Google ads is 1-2 dollars*. Depending on your healthcare specialty and competition, this can fluctuate. Your local Google search market will dictate the values of each keyword based upon supply and demand, similar to the local real estate market.
3. The Best ROI: Unlike typical types of advertising such as TV, magazines or billboards, Google AdWords provide clients with a wealth of reporting data to measure your Return On Investment. You can track which key words get the most attention in your market, how much each word costs, your most popular ads, phone calls tracking with duration times, online appointment requests and more. According to the latest stats, Google delivers 8:1 return on investment.
Chances are that your competitors are already running ad campaigns along with larger hospital systems across the US. Take a moment to search your specialty on your smart phone and you might be surprised. Google AdWords are an easy and effective way to grow your practice, while measuring your results with ample tracking data, allowing you to spend your budget with precise targeting and flexibility.
Let us help you advertise online, so you can help your patients. Reach out to us at: clifford@yourpracticeonline.net or (877) 388-8569.
Sources:
* https://www.webfx.com/blog/marketing/google-ads-statistics/