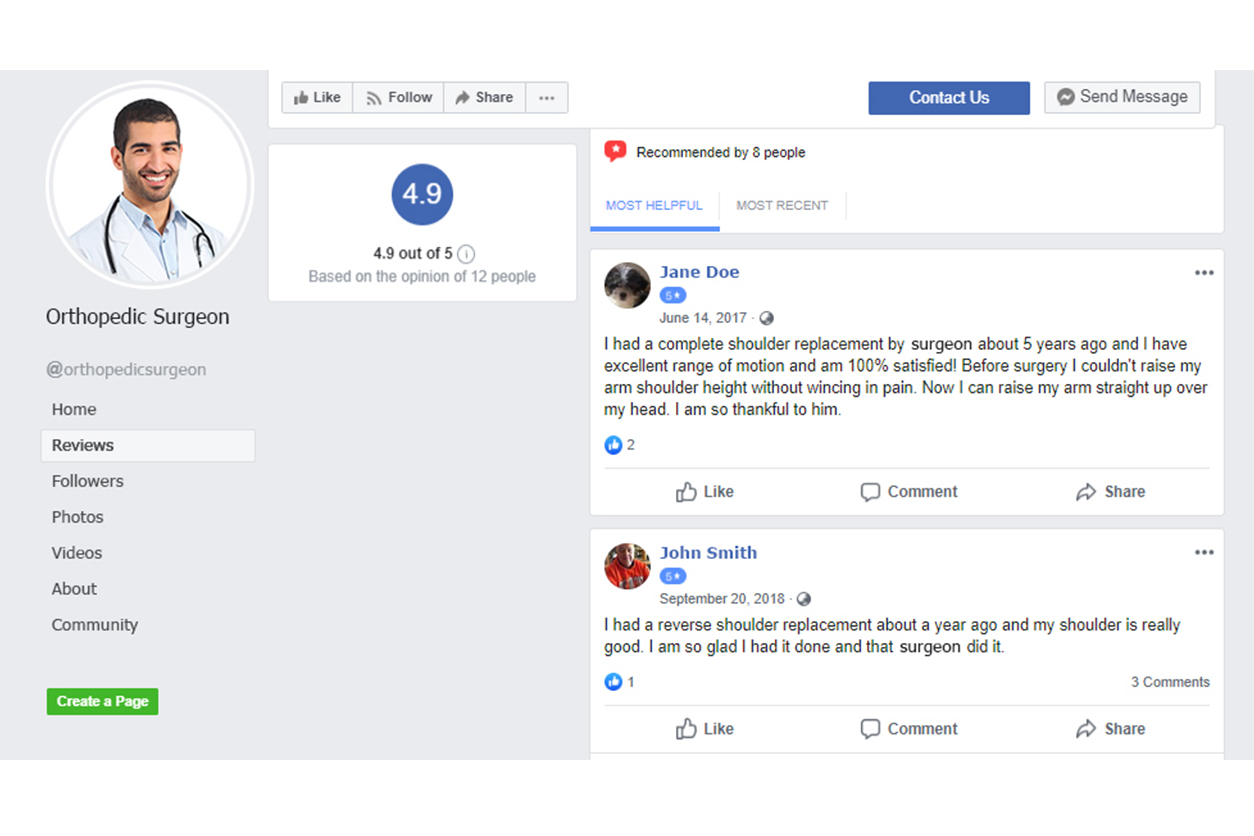 Most doctors are busy helping patients or performing surgery and do not spend much time on Facebook. In fact, many physicians we work with don't even have a personal Facebook profile and are weary of using the platform due to a misunderstanding of how Facebook works. Facebook has evolved from a college networking platform to a solid business listing or directory yielding good search results in Google and recommendations in local networks. Using a Facebook business page for your practice can increase your search engine optimization and patient referrals.
It should be noted that a Facebook Business Page is not the same as a Facebook personal page. The primary goal of the Facebook Business Page is to connect your medical practice with prospective patients (You don't have "Friends" on the page, and you don't have to assign a gender or a birthdate when setting up the business page.)
Here are some of the important benefits of a Facebook Business Page over a Facebook Personal Page:
Better Search Engine Optimization: Facebook business pages act as a directory listing that improves search engine optimization helping page owners reach a larger share of the market.
Generating More Referrals: Greater than 75%1 of patients search online looking for recommendations and patient reviews before choosing to visit a healthcare provider. A Facebook business page offers multiple options to maximize patient success stories driving more patients to your doorstep.
Access to Facebook Insights: You can export and analyze information about visitors to your page that helps you better understand potential patients, their likes, their location, etc. This feature is not available on a personal page.
Promotion of Special Offers: Facebook Special Offers are available exclusively on the Facebook Business Page as the official way to promote a special offer or medical service. When your patients claim these offers, their "friends" will be able to see it.
Medical Practice Relevant Information: To let your patients know more about your practice, your Facebook business page has a category section, products or services, awards, foundation date, and allows you to enter a mission statement.
Focus on Your Ideal Patient: With a Facebook business page, you can restrict your page visitors by age & country, have access to moderation blacklists to control conversation, and have the option to boost posts and run relatively inexpensive newsfeed ads targeting specific demographics which have a very high success rate.
With over 2.4 billion active Facebook users2 and everyone needing healthcare at some point in their lives, there's a pretty good chance your prospective patients are on Facebook. A Facebook Business Page is a great tool to profile your practice and specialties.
Sources:
1. https://insightmg.com/how-to-create-a-facebook-strategy-for-your-medical-practice/
2. https://www.statista.com/statistics/264810/number-of-monthly-active-facebook-users-worldwide/