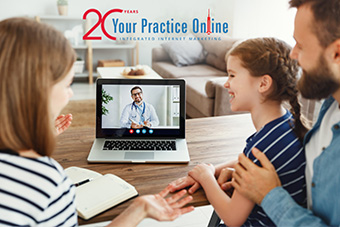 The healthcare industry made significant innovations in the use of online platforms to reach select patient populations. The rate of innovation is expected to increase rapidly in the foreseeable future. Here are 6 ways to improve your healthcare website so your practice stays at the top of search results in 2022.
Use Intuitive Web Design: Your practice website should have an attractive, uncluttered design with content, images, and videos arranged in a logical flow to allow easy navigation to specific content that your patient is likely to be interested in.
Create High-Quality Content: The medical content on your website should be extensive, yet easy to understand and obtained from trustworthy sources. Anticipate patient needs and include video, FAQs and meaningful images to improve patient comprehension.
Incorporate Interactive Features: Users are likely to spend more time on a website that engages and interacts with them offering services that are tailored to meet that specific needs. This will lead to lasting impact on the minds of users and improved conversion rates and SEO. Interactive features may include offering online consultations, appointment scheduling, bill pay, and secure access to important information.
Perform Regular Website Maintenance: Just like your patients, your website needs regular checkups to ensure it is healthy and working as intended to achieve your practice goals. Regular maintenance is essential to strengthening SEO, addressing technical issues, avoiding security threats, and ensuring HIPAA compliance.
Optimize the Patient Experience: Few things cause more user frustration as a slow loading webpage. Bounce rates increase to 90% when page loading time goes from 1 to 5 seconds. To successfully engage with patients, your practice website should have a short load time, be responsive, and have stable page elements. These are new core web vitals that strongly influence page ranking. Other important factors are being mobile-friendly, avoiding intrusive pop-ups, and being 100% HIPAA compliant.
Your Practice Online offers a variety of digital marketing solutions to help your website rank high in search engines. We build practice websites that are compliant with an abundance of patient education content and videos using the latest Google guidelines.
We can help you grow practice, so you can treat more patients. Contact us at info@yourpracticeonline.net or by calling (877) 388-8569 to learn more.
References:
1. www.medicalwebexperts.com/blog/6-ways-to-improve-your-healthcare-website-a-checklist-for-2021/