Your patients are everywhere. Your practice should be too.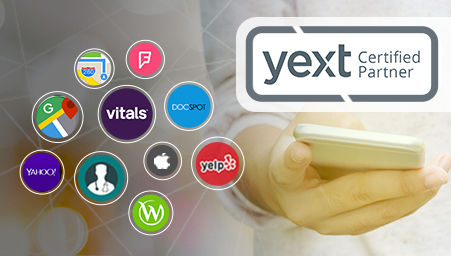 Solve the challenges in managing the facts about your healthcare facility or provider information to attract new patients in the moments that matter most.
Upgrade your practice's search engine optimization and online reputation to get discovered everywhere in today's competitive healthcare marketplace.
As a proud channel partner of Yext, Your Practice Online is now offering a Premium Plus Healthcare subscription to promote your URL and brand with Yext API integration to major search engines and online directories. Yext integrates with your website, app, and any internal systems that operate on digital knowledge. Increase your practice's visibility online:
Increase your search engine optimization by improving your brand awareness and get discovered in more places, to ultimately get more patients.
Showcase your practice where patients are searching with important information in real-time about office hours, locations, specialties, provider(s), and health insurance.
Promote your practice specialties and subspecialties in Google, Yelp, Vitals, Wellness and over 100 different maps, apps, directories, search engines, and social networks across the ever-expanding intelligent services that influence healthcare consumers.
Enhanced provider listings with healthcare-specific fields such as: NPI, specialties, procedures performed, associations, patient access, education, certifications, and more. Publish facts about your practice to sites like DocSpot, DrScore, EZDoctor, Vitals, Wellness.com.
Eliminate duplicate listings and inaccurate information to ensure your practice information is accurate across major internet platforms.
Include authority backlinks from top business directories sites which will help your website rankings.
Add inbound links from your practice location related listing websites.
Collect, track and respond to all your online reviews from one simple place, with one login.