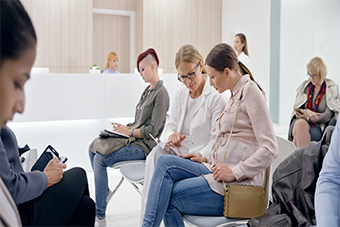 The image of patients in a waiting room immersed in their smartphones is a very common sight in countless hospitals and doctor's offices.
According to the latest statistical data in November 2019, smartphones and tablets accounted for 54.83% of the internet browsing market with desktop browsing shrinking to 45.17%.1 By the end of 2019, the number of mobile phone users is expected to touch 4.68 billion! That's mind-blowing when you consider the first iPhone was introduced to the world just 10 years ago in 2009. 2
Whether its booking an appointment with your doctor, monitoring your diet, or tracking the number of calories you have burned, managing your health using your smartphone is fast becoming the norm.
So, what does this mean for your practice?
Your practice website MUST be mobile friendly to reach your patients. A responsive web design ensuring quick loading of website pages, easy navigation, and an overall smooth experience on all mobile devices should be top priority.
An app can make your practice portable and engage more patients. Research statistics show about 90% of consumer's smartphone time is spent in apps.
How does an App work?
The app will have its own intro screen and dashboard screen featuring the same content as the website including health calculators and educational videos.
Integration with the patient portal and prescription refills could also be done through the app.
The app will give you the ability to communicate with patients through mobile notifications. This makes it easier to send updates to patients for important announcements, office closures, holidays, appointment reminders, etc.
An app is a very good platform to improve communication and engagement with existing patients. Convenience and accessibility are important selling points to effectively market your website. An app is a great way to offer both, ensuring your practice will always be at your patient's fingertips.
Your Practice Online builds state-of-the-art healthcare websites and mobile apps specific to your medical specialties. Contact us to learn more.
Sources:
1. https://gs.statcounter.com/platform-market-share/desktop-mobile-tablet/worldwide
2. https://hostingtribunal.com/blog/mobile-percentage-of-traffic/#gref