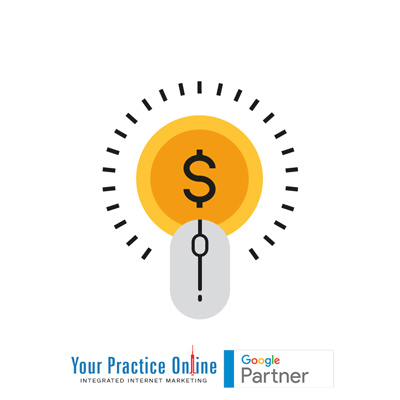 Do patients really click on paid ads when looking for medical services? Will a paid search campaign benefit your practice? It depends on your medical speciality and insurance plans. Here are some interesting stats about paid search campaigns:
Paid search campaigns can help you reach target audiences with almost surgical precision. You control the geographical location, timing, and the frequency of the ads displayed. Such marketing campaigns can deliver almost immediate results. Thousands of healthcare practices have found that it's time and money well spent, because Google Ads delivers measurable ROI.
With paid search campaign you move up on google search listings as shown below:
The Pros:
The top 3 ad positions on the search page get 40% of all the clicks.1
For people looking to avail a service, paid ads generate 65% of all clicks.2
PPC (Pay-Per-Click) ads are 50% more likely to generate revenue.3
When ads are stopped, 89% of the generated traffic is lost.3
You can expect to earn $2 in revenue on every $1 spent on paid searches.3
More than 72% of the users are planning to increase their budgets for paid ads.1
Higher probability of reaching patients who are willing to pay out of pocket through the Google network.
The Cons:
The approximately 91% of the US population that have health insurance may not book an appointment if you are an out-of-network provider.4
You miss out on 10% of the US population that does not use internet.5
As a certified Google AdWord partner, we have provided these stats to help you weigh the pros and cons when spending your valuable marketing dollars on digital ads.
Reach out to us at (877) 388-8569 if you are considering starting a paid search campaign to boost your online presence.
Sources:
1. https://www.mainstreetroi.com/15-stats-that-prove-google-adwords-is-a-great-investment-for-your-business/
2. https://valveandmeter.com/pay-per-click-statistics/
3. https://www.ironspringsdesign.com/difference-between-organic-paid-search/
4. https://www.census.gov/library/publications/2018/demo/p60-264.html
5. https://www.pewresearch.org/fact-tank/2019/04/22/some-americans-dont-use-the-internet-who-are-they/