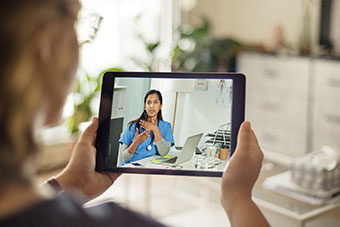 With all 50 states having reported cases of the coronavirus, there is a rapid movement to stay at home and practice social distancing. The US government has recently relaxed HIPAA regulations to make telehealth services accessible to the 62 million Americans under Medicare program.1 Most insurance providers cover virtual telephone and video appointments allowing both healthy and vulnerable patients access to care through video consultation with their doctor from the comfort and seclusion of their homes.
Telehealth can play a big role in helping to deal with the spread of the COVID-19 virus. By practicing social distancing, maintaining proper hygiene, and cleaning and disinfecting frequently touched surfaces, we can help "flatten the curve" of new cases, preventing the spread, and reducing the possibility of our hospitals being overwhelmed.
Virtual healthcare can help patients see their specialist, sub specialists and maintain existing treatment pathways, especially those in need of elective surgery. Virtual appointments can help practices manage patient care for those with joint pain, musculoskeletal conditions, primary care, and gastointestial issues to name a few. Orthopedic specialists can review X-rays, MRI scans and other diagnostic imaging studies, make an accurate diagnosis or provide a second opinion, offer treatment recommendations to help patients recover from injury, and even schedule future surgery dates if needed. Rehabilitation exercise videos, diet changes, and other instructions can be provided using telehealth so patients are in the best possible condition for surgery which can be scheduled in a month or two.
Telehealth has a critical role to play in this crisis. Although it may not work for every continuum of care, providers that can offer these services can help our overburdened healthcare systems during this crisis.
Sources:
1. https://www.hipaajournal.com/telehealth-services-expanded-and-hipaa-enforcement-relaxed-during-coronavirus-public-health-emergency/