Google's core algorithm update rolled out in August 2018 which caused a change in Google search results, having a massive impact on medical and healthcare websites. Nicknamed the "Medic Update", some healthcare sites are still feeling the affect six months later.
Courtesy : Search Engine Roundtable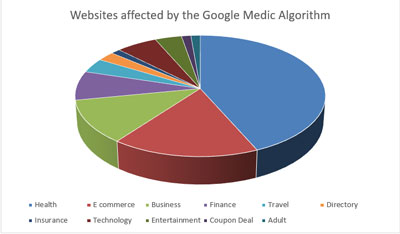 Google Medic update decides who's trustworthy and who's not, which can negatively affect practice sites that are not trustworthy in the eyes of Google. If your medical credentials are optimally displayed on your website, and the content is credible and well structured, with relevant, semantically-related keywords, you can expect to rank higher.
Websites that ask users for personal information such as health information & medical history fall into the category of Your Money Your Life (YMYL) Websites. Google closely scrutinizes such websites to ensure they are authentic and provide reliable information. Each YMYL website is evaluated using the Google E-A-T standard, which stands for:
Expertise
Authoritativeness
Trustworthiness
For best Search Engine Optimization (SEO) in Google, your website should have:
Content written by experts in the medical field
Correct details on the About Us, Customer Support, Contact Us, and Disclaimers
Accurate page descriptions, which helps Google understand how the page is unique
Excellent overall structure and design
SSL Certificate, Secure Socket Layer encryption
If these E-A-T quality standards are met, the possibility of experiencing a drop in your rankings on Google searches is minimal.
For over 18 years, Your Practice Online has created more than 3500 websites globally by qualified experts in the field of patient education content and healthcare digital marketing. Our founder, Dr. Prem Lobo, holds a Bachelor's degree in Medicine and Surgery (M.B.B.S.), a Post-Graduate degree in Geriatric Medicine from University of New South Wales, in Sydney, Australia, and a Diploma in Information Technology.
Contact us at:
Sources:
1. https://www.seroundtable.com/google-medic-update-26177.html
2. https://www.stanventures.com/blog/ymyl-health-wellness-sites-google-algorithm/
3. https://theupperranks.com/blog/google-medic-update/