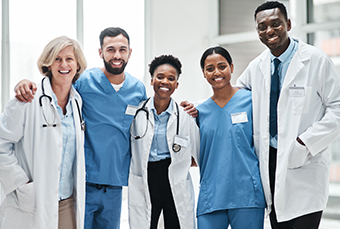 Google My Business (GMB) is a very convenient tool that allows you to manage how your healthcare practice appears on Google Search and Maps. It lets you create and update your business profile, showcase your services, respond to reviews, and more.
Having a well-optimized GMB profile can help you attract more patients, boost your online reputation, and increase your visibility on Google. Here are some tips on how to optimize your GMB profile for healthcare.
Claim and Verify Your GMB Profile

The first step to optimizing your GMB profile is to claim and verify it. This will give you full control over your business information and allow you to make updates as needed. To claim your GMB profile, you need to visit google.com/business and follow the instructions. You will need to provide some basic information about your practice, such as name, address, phone number, website, and category.

To verify your GMB profile, you will need to confirm that you are the owner of the business. Google will send you a verification code by mail, phone, or email, depending on your preference. Once you receive the code, you can enter it on your GMB dashboard and complete the verification process.

Complete and Update Your Business Information

The next step to optimizing your GMB profile is to complete and update your business information. This will help Google and potential patients understand what your practice offers and how to contact you. You should fill out all the fields in your GMB profile, such as:

Business Hours: Indicate when your practice is open and closed. You can also add special hours for holidays or events.
Services: List the services that you provide at your practice. You can also add short descriptions for each service.
Attributes: Highlight the features that make your practice unique or appealing. For example, you can indicate if you offer telehealth, accept insurance, have wheelchair access, etc.
Photos: Upload high-quality photos that showcase your practice, staff, equipment, and facilities. You can also add videos or virtual tours to give a more immersive experience.
Description : Write a brief introduction about your practice, its mission, values, and specialties. You can also include keywords that are relevant to your niche and location.

You should also regularly update your business information to reflect any changes or updates in your practice. For example, if you have new services, staff members, or policies, you should update them on your GMB profile.

Encourage Your Patients to Leave Reviews

Another way to optimize your GMB profile is to encourage and respond to reviews from your patients. Reviews are one of the most important factors that influence how Google ranks your business and how potential patients perceive your practice. Having more positive reviews can help you improve your online reputation, increase your trustworthiness, and attract more patients. To encourage reviews from your patients, you can:

Ask them politely after their visit or appointment
Send them a follow-up email or text message with a link to your GMB profile
Offer them incentives or rewards for leaving feedback
Display signs or stickers at your practice that invite them to review you on Google

Respond to Reviews as Soon as You Can

You should respond to all reviews, both positive and negative, in a timely and professional manner. This will show that you care about your patients' satisfaction and value their opinions. To respond to reviews from your patients, you can:

Thank them for their feedback and appreciation
Apologize for any negative experiences and offer solutions
Address any questions or concerns they may have
Invite them to visit again or refer others to your practice

Post Relevant Content on Your GMB Profile

Posting content on your GMB profile can help you engage with your audience, showcase your expertise, and drive more traffic to your website. You can post various types of content on your GMB profile, such as:

Updates: Share any news or announcements about your practice, such as new services, staff members, awards, events, etc.
Offers: Promote any discounts or deals that you are offering at your practice, such as free consultations, referrals bonuses, loyalty programs, etc.
Articles: Publish informative articles that educate your audience about topics related to your niche or specialty. For example, you can write about common health conditions, prevention tips, treatment options, etc.
Q&A: Answer frequently asked questions from your patients or potential patients. You can also invite them to ask more questions on your GMB profile.
You should post content on your GMB profile regularly, at least once a week. You should also use relevant keywords, images, and links in your posts to make them more appealing and effective.
Optimizing your GMB profile for healthcare can help you grow your practice and reach more patients online. By following the tips above, you can create a compelling and informative GMB profile that showcases your practice, services, and reputation. You can also use Your Practice Online's social media service to get professional help with your GMB profile. Contact us today to learn more.