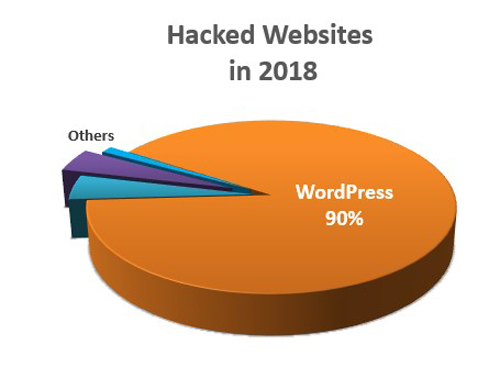 Did you know that the most commonly infected website platform is WordPress ? According to the Hacked Website Trend Report, 90% of all security breaches occurred on websites supported by the WordPress platform3.
Online security can wreak havoc on any business and cause major disruptions in day-to-day operations. In healthcare, a website hack can also leave your practice liable for violations of patient privacy laws as outlined in HIPAA (Health Insurance Portability and Accountability Act of 1996).
Even though WordPress is quite a versatile content management systems (CMS) with an open code access and unlimited design freedom, it has a fair share of drawbacks relating to security2. A customized CMS platform that does not use software updates is the logical choice to avoid such hacks.
As a physician or healthcare professional, it's important to understand how to protect your site and medical organization with a secure website. These 5 tips can broaden your knowledge of cybersecurity and help safeguard sensitive information.
1. Use a Custom Platform that is not vulnerable to software hacks and updates. The CMS system used by Your Practice Online is built by our team of in-house software developers from the ground up with the goal of maximizing security while meeting the unique needs of our clients. Most of the security problems arise due to configuration issues, software extension component vulnerability and improper deployment and maintenance2.
2. Use Encrypted Passwords.This is critical to maintain a high level of website security. Hackers ingeniously combine lists of breached passwords available online with word lists from the dictionary to generate possible passwords. A weak password totally undermines the best laid cyber security plans4.
3. Ensure your website software is updated regularly to keep pace with the changing technological landscape. Numerous websites fall prey to automated bots that are constantly scouring the internet looking for possible breaches that can be exploited. Staying on the cutting-edge of software development is your best defense against such attacks4.
4. Install a Secure Sockets Layer (SSL). The purpose of SSL is to create a secure channel between a visitor's browser and your website. This prevents a middle man from intercepting information such as credit card details. An SSL certification may also protect you against fines and other legal problems if you are handling personally identifiable information4.
5. Your website provider should have regular Back Ups. All your website content should ideally be saved off site to fully secure it against hackers or hardware failure; this should occur automatically so it's not on the list of things you have to do every day, and you should have reliable recovery system. This way you are prepared for the worst-case scenario4.
Your Practice Online takes great pride in building custom-developed websites that are secure, easy to navigate, and mobile responsive on all devices. Using proprietary technology, our responsive CMS (content management system) platform helps healthcare professionals educate, engage and attract new patients without vulnerability to hackers.
The best part is that you own your site and all it's content, without having to use plug-ins to fix bugs in the years to come. If security is important to your practice, let us help you create a secure and custom site. Our global team is ready to defend against hackers with strong security and support for our clients.
Sources:
1. https://blog.sucuri.net/2019/03/hacked-website-trend-report-2018.html
2. https://www.websitebuilderexpert.com/wordpress/org-review/
3. https://www.infosecurity-magazine.com/news/wordpress-comprises-90-of-hacked-1-1/
4. https://blog.sucuri.net/2018/11/10-tips-to-improve-your-website-security-2.html